Understanding Inn Financing and More
Where to Start?

Understanding the Financials, Inn Financing, Tax Benefits and More...
It's easy to understand the lifestyle of owning a bed and breakfast. And to understand the attention to detail that goes into providing a wonderful experience for your guests. I've mentioned briefly what the 'job' of innkeeping entails. And it's easy to get caught up in the dream state as you start your search.
But it's important to understand the financials and everything that ties to the financial side of the business. You want to be an educated buyer, and sellers need to understand what buyers go through when it comes to the financing. Its not nearly as glamorous as what the guests experience, but it's essential for the success of your business. And the best way to increase the value of your business is to increase your revenue, control expenses, and increase the cash flow, or the bottom line.
But you don't know what you don't know. That's what I am here for, to anticipate your questions and answer them before you knew what to ask.
I've written countless posts on my blog on the topic of financing since it is the territory where most buyers are unfamiliar. And a thorough broker is one who educates the buyer. I know the operations, I know the brokerage, I know the tourism industry, and I know the financials. I'm a well rounded, full service lodging/hospitality specialist.
Browse the full blog if you'd like, but below are some of the Top 12 most helpful topics:
10 Tips for New or Prospective B&B Owners
Maine Senior Magazine asked me to provide my top 10 tips for new B&B Owners. These are pretty fundamental in understanding what basic hospitality is all about.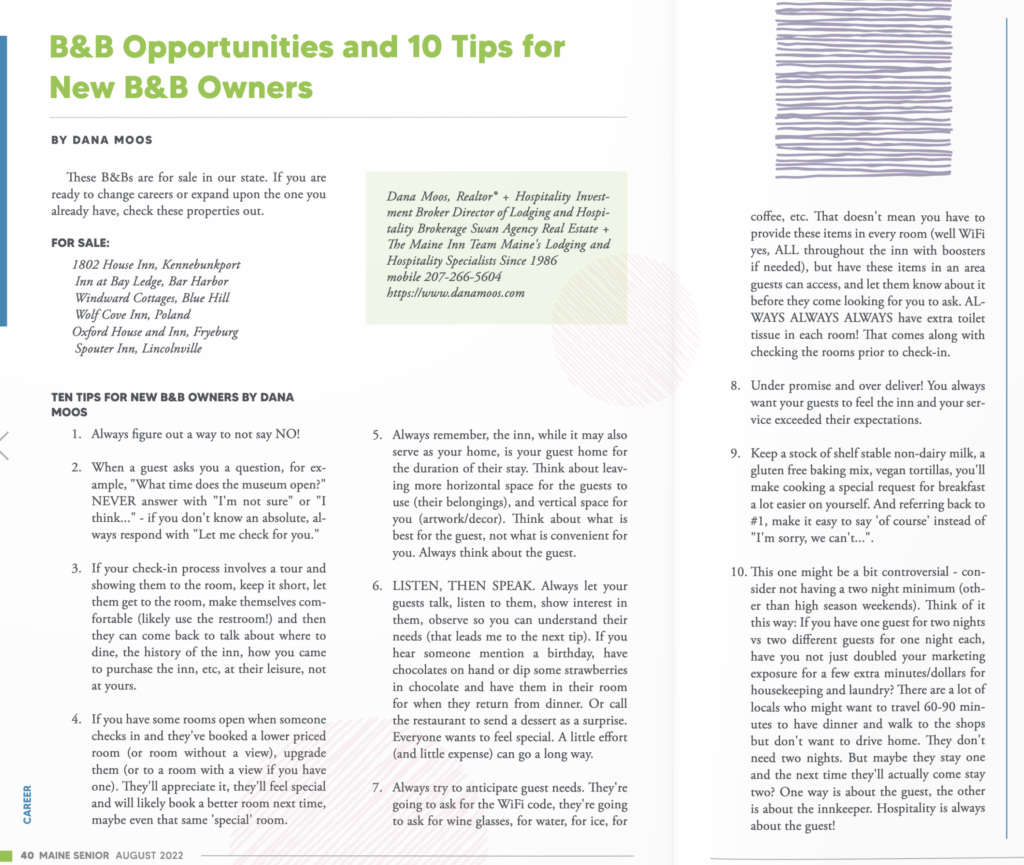 My husband and I bought our first inn when I was 38. My guests would check in and and after introducing myself, they'd say...

"You're the owner? You're too young to be retired!"


Well I had a good laugh!
In the past, the average innkeeper was of retirement age and well beyond. We should recognize that actual retirement age these days is still fairly young.  Many inn owners years back were in the 55-65 age range, but we are seeing that age drop dramatically.
Innkeeping should be considered a pre-retirement job. It is NOT retirement. It is an enjoyable lifestyle job prior to retirement. But it is most certainly work. Innkeepers work hard and long hours. But it's more enjoyable and often not nearly as stressful as many jobs.
How many people can say they have jobs where they are dealing with happy people on vacation? Now don't get me wrong, not ALL guests are happy ALL of the time. But the majority are. And it's really gratifying knowing you are help to make someone's hard earned vacation the best it can be.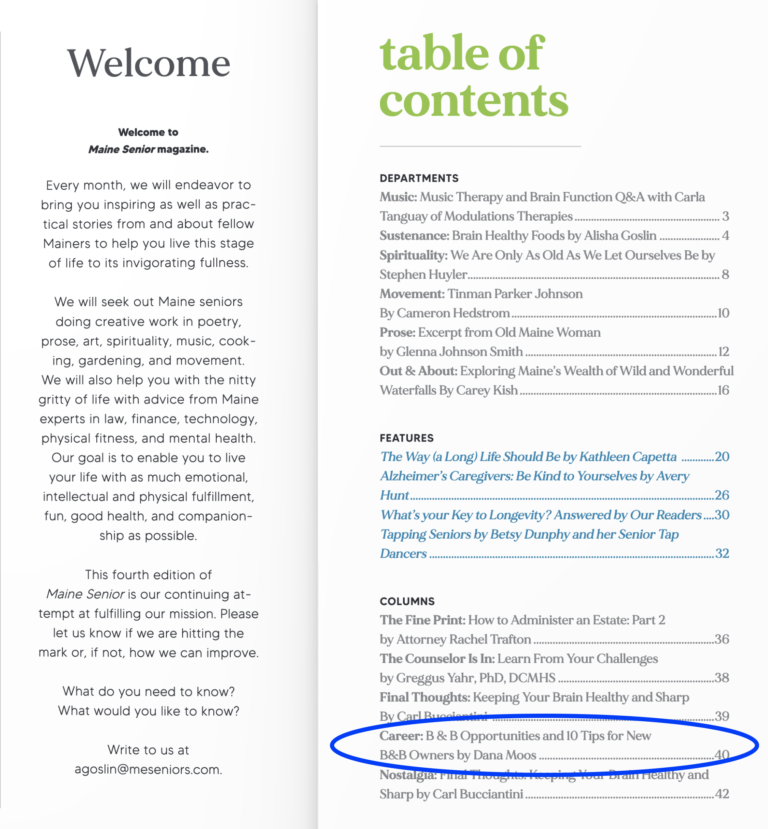 Feel free to contact me with any questions at all, I'm happy to help.