For years as an innkeeper, guests would ask if I had a cookbook they could buy. For years I said over the winter, I was going to put one together. I never did. But Down East Magazine's book division approached me and asked if I wanted to write one in April 2010. And November 1, 2010 I submitted my manuscript, photos and all. It was a busy summer!
Visit The Art of Breakfast on Facebook

The 1st edition was sold on Amazon but is sold out/out of print, although you can occasionally find it online or in bookstores throughout the country.
I DO HAVE A HANDFUL OF COPIES STILL AVAILABLE FOR PURCHASE THROUGH ARTOFBREAKFAST.COM
The 2nd edition is AVAILABLE ON AMAZON or buy a signed copy from me
Breakfast, Brunch, Small Bites, Sweet and Savory, Cocktails, and Baked Goods​
the cover photo: poached egg over fried green tomatoes with grilled shrimp, bacon, shaved Parmesan and a creamy, spicy remoulade
I'm awaiting my 3rd cookbook titled​
"LOBSTER: 75 Recipes Celebrating the World's Favorite Seafood"
Starters, Small Bites, Soups, Salads, Dips and Spreads, Sandwiches and Handhelds, Tacos, Breakfast and Entrees. And 2 Bloody Mary recipes with lobster stock.
Check out some teaser photos below…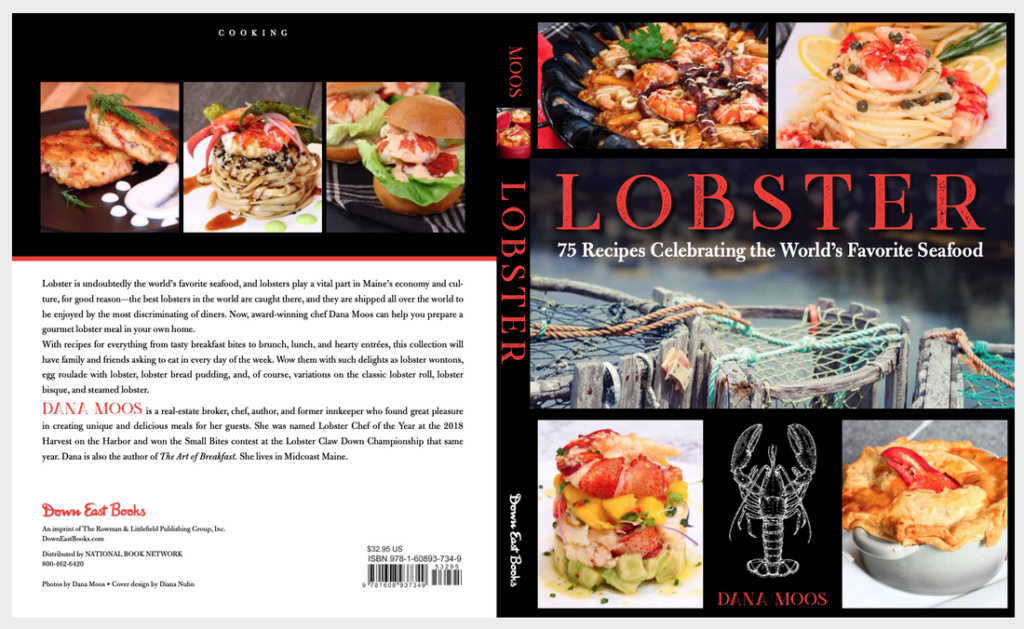 A SAMPLING OF THE RECIPES:
Fresh Lobster Spring Roll – butter lettuce, mango, avocado, carrot, fried shallots, soy
Coconut fried lobster with curry mango aioli
Potato and scallion latke topped with butter poached lobster, lemon zest sour cream, red onion, fresh dill
Fondue with grilled lobster, baby potatoes and asparagus
Lobster and candied bacon slider on brioche with wasabi brown butter mayo and pickled red onion-carrot relish
Fried lobster Po'Boy with garlic aioli, roasted shallots, lettuce and tomatoes
Crispy Corn Lobster Taco – house fried corn tortilla, butter lettuce, grilled corn, lobster, mango jalapeño relish, smoked onion aioli, fried shallots
Lobster Banh Mi Taco – corn tortillas with pickled radish and carrot, cucumber, sweet wasabi aioli and cilantro
Sweet and Spicy Lobster, Bacon and Poblano Corn Chowder, cornbread croutons
Lobster Salad Nicoise with green beans, baby potatoes, cerignola olives, hard boiled eggs, cherry tomatoes, Bibb lettuce
Lobster, mango and avocado salad with citrus vinaigrette
Chilled lobster and calamari salad with olives, capers, white wine, garlic, olive oil, lemon
Lobster and Corn Quiche with Fontina and Basil with Cornbread Crust
Black pepper Parmesan biscuits topped with lobster, Parmesan béchamel, sautéed leeks, roasted tomatoes, poached egg, sherry butter, micro greens
Savory scallion waffle topped with lobster poached in brown butter and poached egg drizzled with wasabi butter and sweet soy glaze
Lobster and andouille sausage with jalapeño cheddar grits topped with bacon, scallions and a smoked tomato butter
Grilled lobster tails, corn puree, queso fresco, smoked paprika oil, fried shallots, crispy cornbread crouton​
Lobster Pot Pie
Lobster, Mushroom and Asparagus Crepes with Lemon Brown Butter
BLT Bloody – Bacon, Lobster Stock, Roasted Tomatoes, tomato juice