Danielle and Brian Turner purchased the East Wind Inn in Tenants Harbor on October 20, 2021 from a wonderful seller, Randy Deutsch. I was pleased to work with both as a Disclosed Dual Agent. And I was so touched to receive this card, knowing Danielle and Brian really felt my passion for what I do and that my love for Maine is genuine! I'll look forward to a visit and maybe a dinner and a signature cocktail and stunning view in 2022!


Our experience with the Swan Agency has been very good.
Having been through two closings with Dana Moos, both for the purchase of Bar Harbor Cottages and now the sale as well, we would only want to work with Dana in the future for any real estate transactions in Maine.
She has always been very pleasant and professional and she is a powerful advocate for us because of her thorough knowledge of the hospitality business.
We look forward to working with her and The Swan Agency in the future.
Thank you,
Ward & Valerie Farren
2/7/23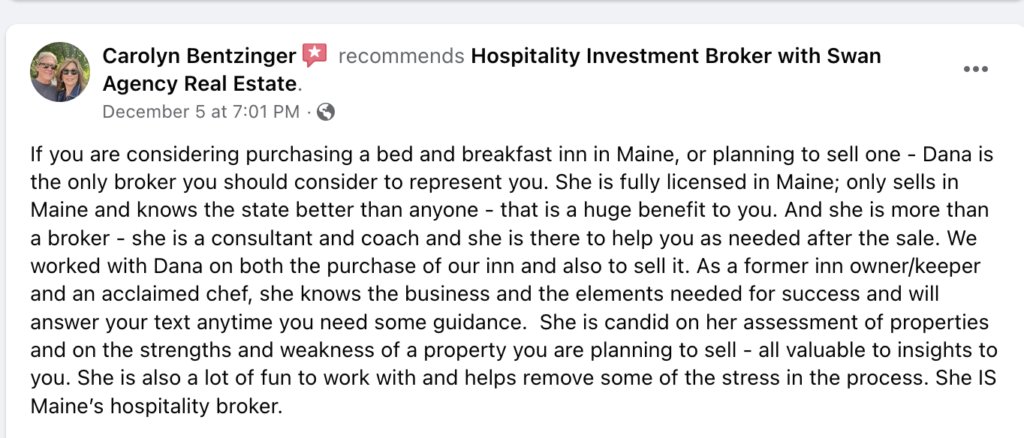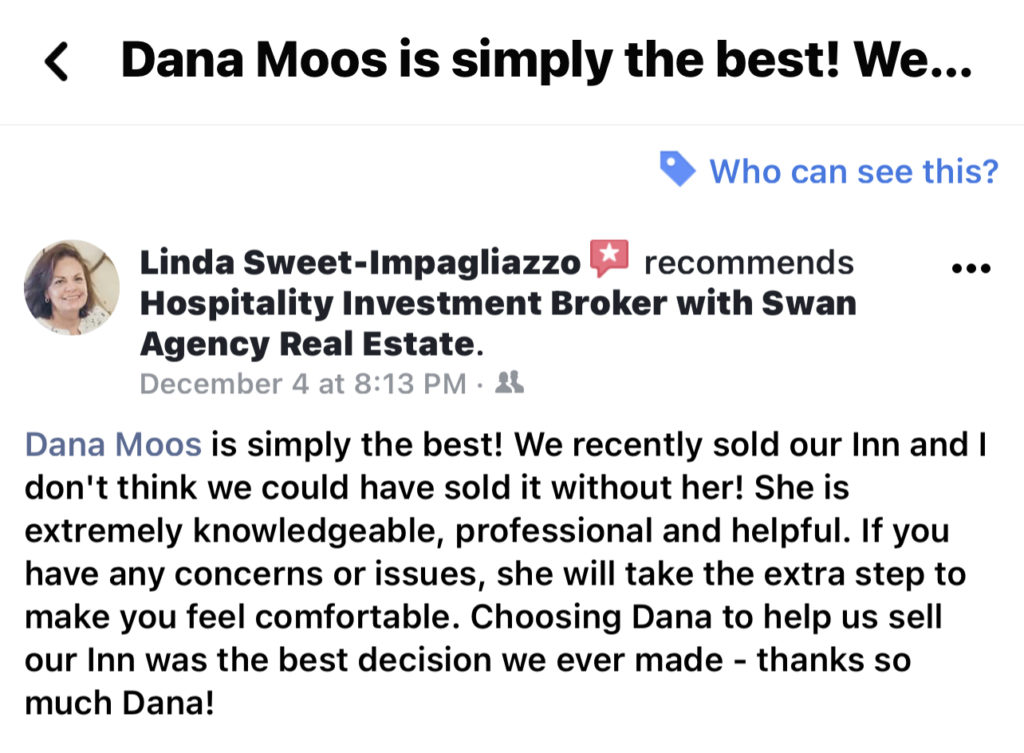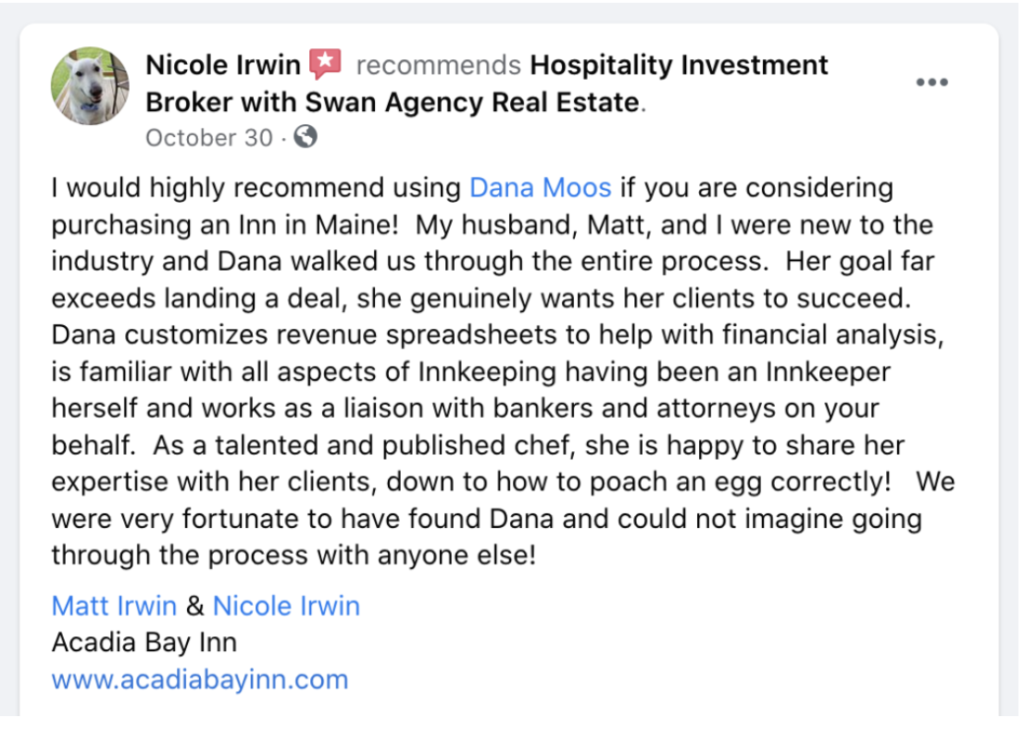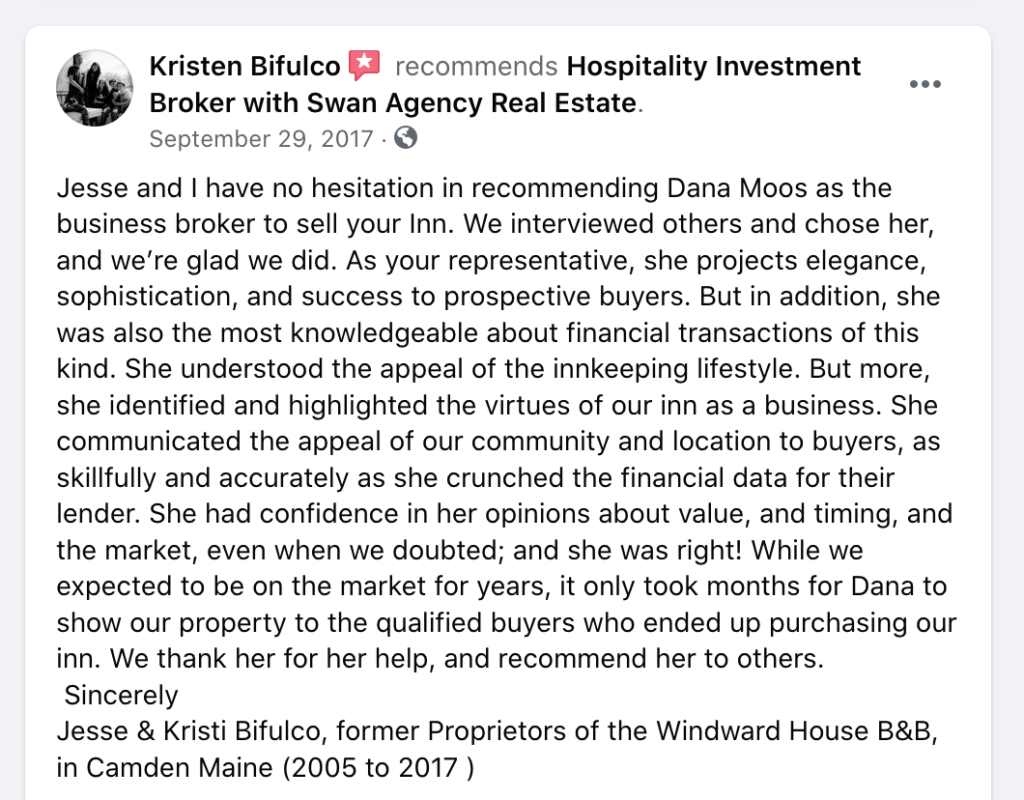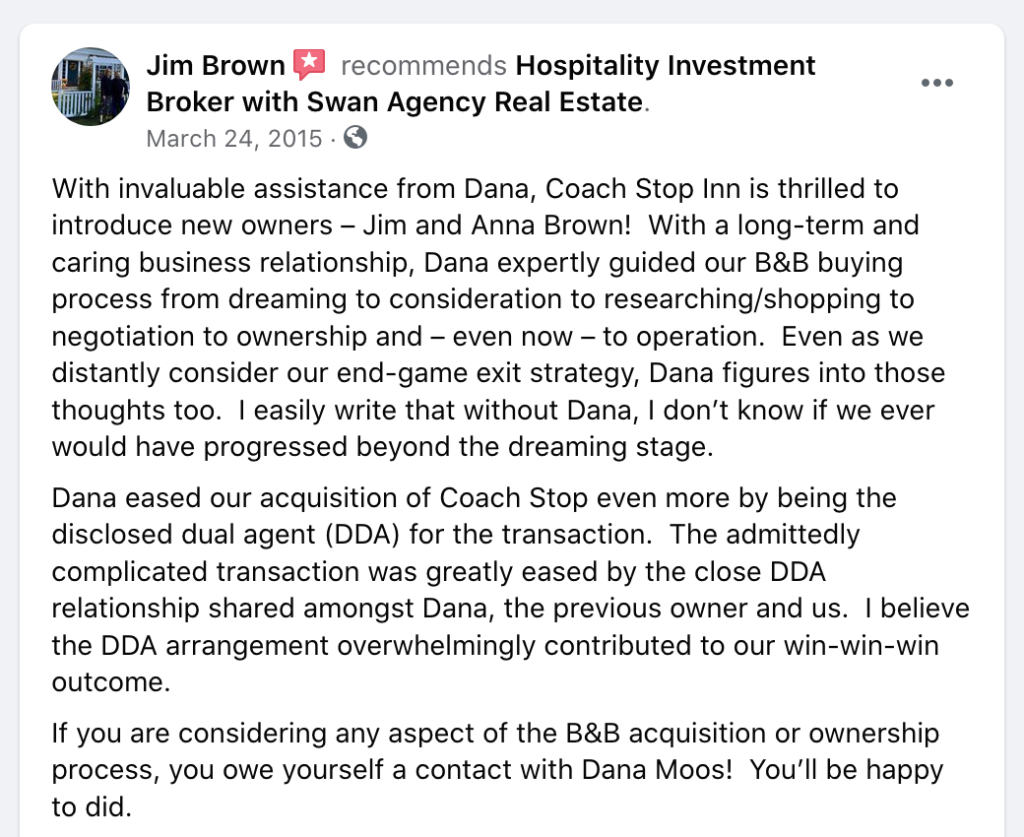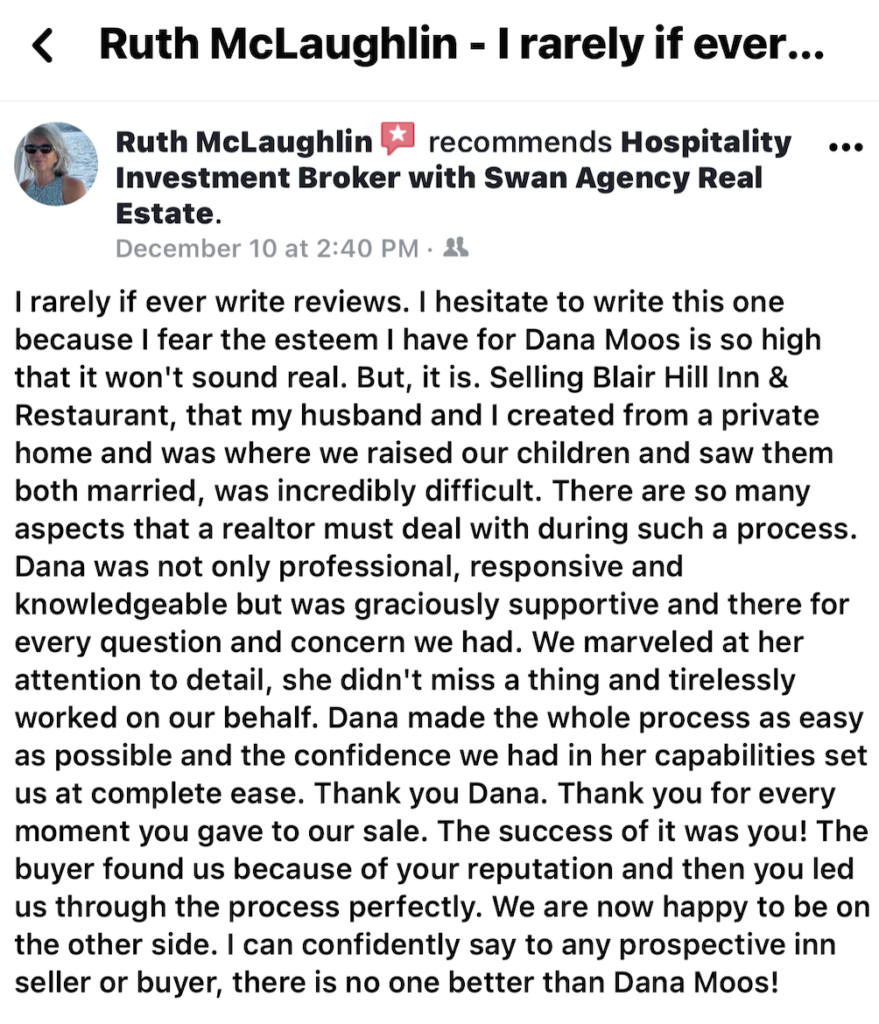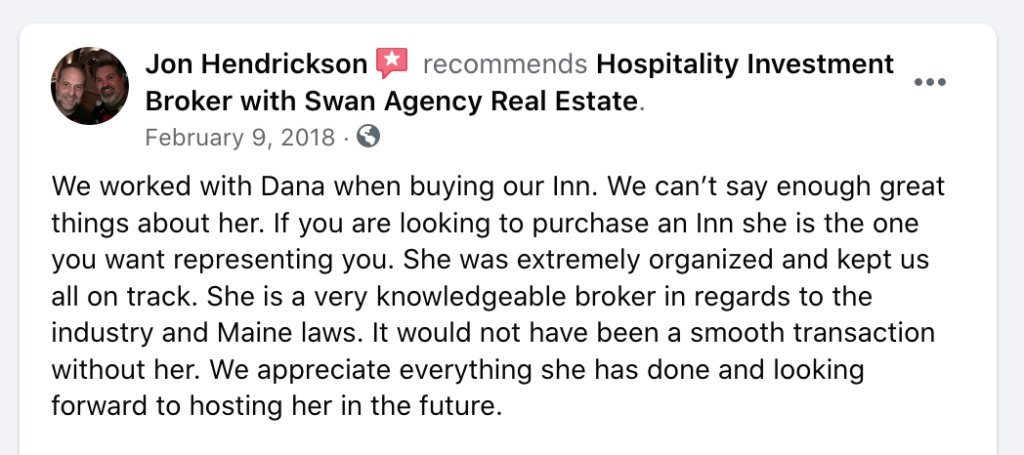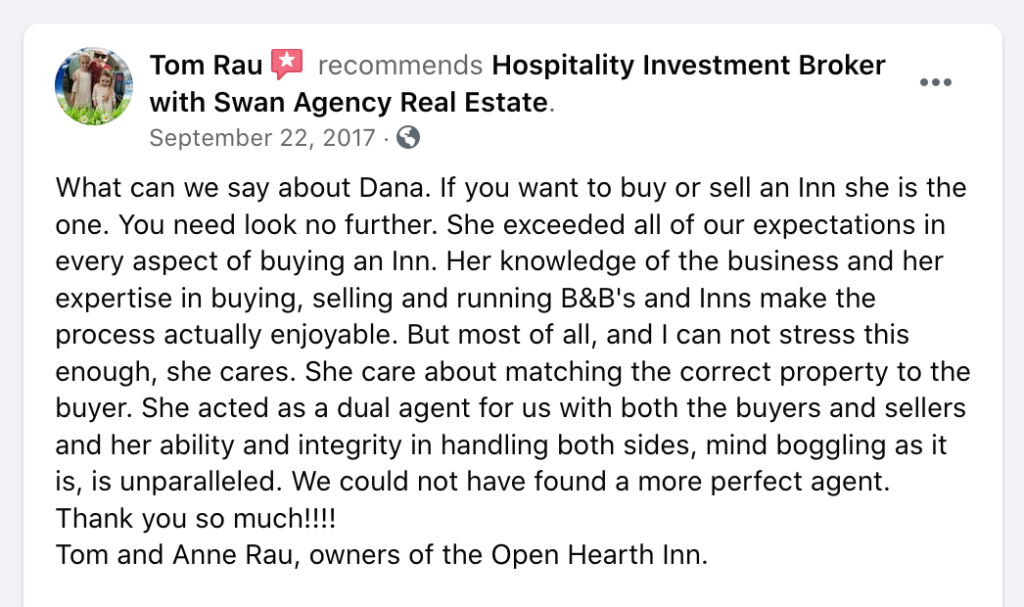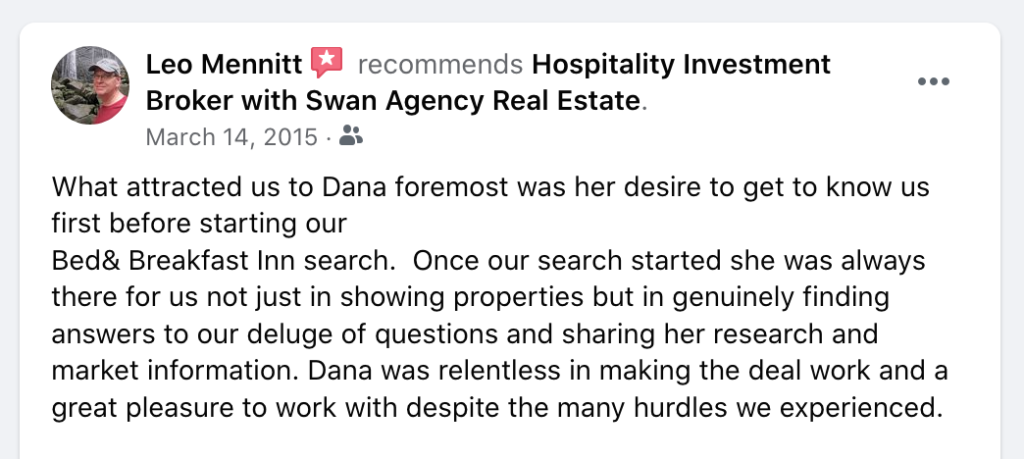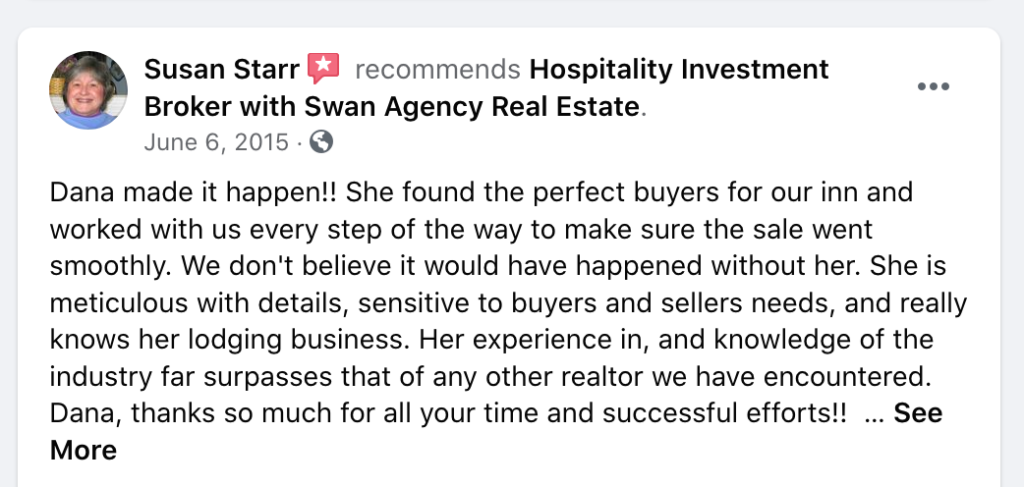 Below is a small compilation of comments from professionals, colleagues and clients:
October 2012
"We recently both sold and bought properties with Dana Moos. We appreciate her care in listening to what our values were concerning the area, price limit and qualifications. When selling property, Dana provided beautiful online photos and a virtual tour. She was always there for every inspection, appraisal or just pep talks. She gave excellent advice about the competition, listing price and showcasing the property's best features. We never felt pressured or rushed to make a decision. When buying our most recent property she was always honest about what should be done and how to handle the bumps in the road. Dana provided exceptional service and amazing communication when things began to move quickly. She stayed in close contact and worked tirelessly, giving support, encouragement and providing the most updated information along the way. Dana has great people skills and knowledge of the Lodging Real Estate market in Maine. We thank her for valuable guidance, always representing our best interest and appreciate her efforts both before and after the property sale. We will happily ask Dana to work with us on future real estate transactions and recommend her without reservation. It is obvious she enjoys what she does and excels at it. We wish Dana much continued success for the future."
Rick and Jane Ellis
Towne Motel, Camden, Maine
"If you want a Real Estate agent that listens, understands, and knows her job, then you want Dana Moos. I could not recommend her highly enough. She just sold our Inn to the perfect couple. With all of the difficulties with SBA, Dana stuck with both the buyers and sellers and went above and beyond what I expected her to do. She was not just our Real Estate Broker, but also became our friend! WE LOVE DANA!"

Neva and Steve Joseph
former owners Craignair Inn Spruce Head Maine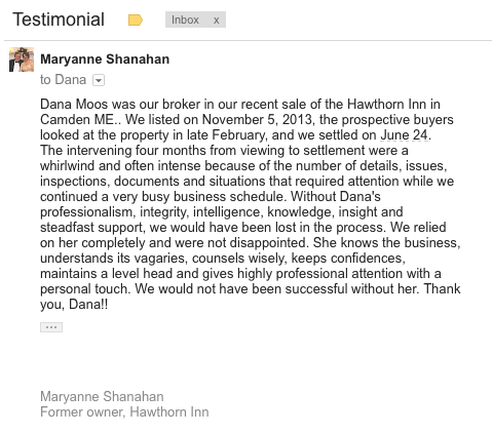 May 2012
"Dana is truly one of a kind. She does so many things so well, I bet she only gets about two hours of sleep a night. But you'd never know it. She is knowledgeable and diligent, and she gets results. But she is also unfailingly charming, poised and professional. She is attuned to your needs and takes a personal interest in your success. Dana's a strong advocate for her clients, but she keeps everyone on the best terms throughout the selling process. She saw us through a complicated sale in a lean market; I cannot imagine anyone working harder – or smarter. No question was unanswered, no need was unmet. Most important, she is just plain likable. It's simply a pleasure to work with her."
Jay Durepo
Former Owner, 1802 House, Kennebunkport, Maine
National Association of Realtors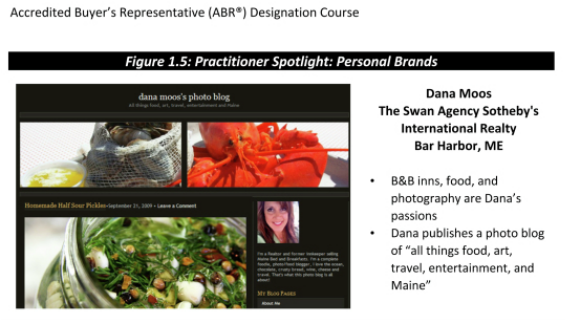 NAR used my personal photoblog as an example of personal branding in one of their accredited education courses.

"Greetings, Dana. 

My name is Kristen Short. I am Managing Director of Education for the Real Estate Buyer's Agent Council (REBAC) and Business Specialties at the National Association of REALTORS®. I am working on a revision of our Accredited Buyer's Representative (ABR®) Designation Course and, with your permission, would love to highlight a screen capture of your photo blog,http://danamoos.wordpress.com/, in the discussion of personal branding in Chapter 1, "Marketing Fundamentals." I think your blog is an exceptional (and very inspiring!) example of how real estate professionals can use passions and interests to build their personal brand."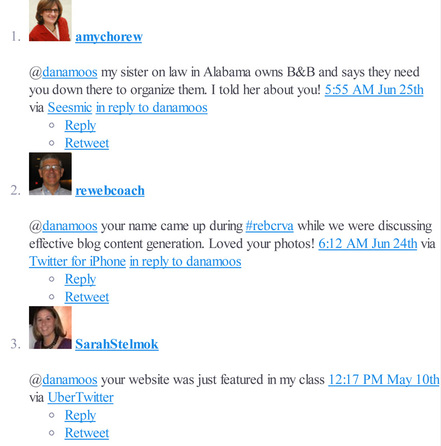 The snapshot above is used in one of the National Association of Realtor's accredited educational courses; the tweet on the left by Sarah Stelmok is referring to this spotlight.

The Tweets on the left are made by some very well respected real estate agents and coaches in our industry.