I'm asked this question every now and then. So here's your answer:
The Legend of the Pineapple
The sea captains of New England traded among the Caribbean Islands, returning to the colonies bearing their heavy cargoes of spices, rum, and a selection of fruits, which sometimes included pineapples.
According to the legend, the captain would drop anchor in the harbor and see to his cargo and crew. Once his work was done, he would head home, stopping outside his house to spear a pineapple on a fence post. This would let his friends know of his safe return from sea. The pineapple was an invitation for them to visit, share his food and drink, and listen to tales of his voyage.
As the tradition and legend of the pineapple grew, colonial innkeepers added the pineapple to their signs and advertisements, and bedposts carved in the shape of a pineapple were a common sight at inns across the colonies. It is not surprising that this symbol of friendship and hospitality became a favorite motif of architects, artisans and craftsmen.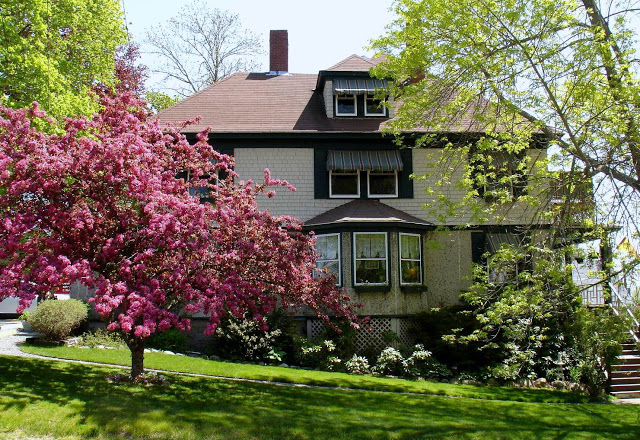 Kingsleigh Inn, Southwest Harbor
This tradition continues today, for pineapples are still popular motifs for gateposts, door knockers, and beautiful serving pieces.
In fact, when we bought our inn in 2004 (above), we bought these pineapple coasters for the rooms and a pineapple throw pillow on a chair in the parlor. But that was all, we didn't want to over do it.