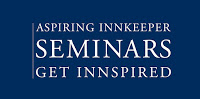 I've just been finalizing the agenda for our interactive seminar. It's going to be a fun but intensive 2 day interactive bootcamp for aspiring innkeepers. We'll cover everything from the general aspects of hospitality (and some things you'd never think about until they happen) to cooking sessions (with insider tips of what works for a crowd) to heavy marketing, web 2.0, Social Media and of course the business side, financing and investment bottom line.
We'll tour some area inns, have some great conversation, wine dinners and camaraderie amongst former, aspiring and current innkeepers.
See the flyer for more details. And contact Leslie (info@danforthmaine.com) at The Danforth to sign up.
And bring your laptops!