The Guilford Bed and Breakfast, circa 1905


I was looking forward to my Guilford Bed and Breakfast visit last week – a beautiful drive through farmland north of Bangor offering incredible views of the mountains. When I arrived I was pleased to see the progress of the exterior restoration, but also the landscaping in its springtime glory. I first listed this property in February, with a couple feet of snow on the ground. I didn't have a chance to be wooed by the beautiful sculpted gardens with fragrant lilac bushes. It's just my nature to see this as a great subject matter for the camera. Gorgeous green grass, bright blue sky, ideal conditions for taking new photos to replace my winter shots.
The color when the current owners purchased the inn was a very dark maroon which did not accentuate the architectural details at all. This should be a classic three colored Queen Anne Victorian. So they're in the process of an incredible paint job for this painted lady; two of the sides are complete and the other two will be complete around September. I can't wait to see the finished look.


Here we see what a change she's going through…


The front porch has massive dentil molding and beautiful round columns for an appropriate grand welcome into the home…


There is a detached carriage house/shed


Large wrap porch with wonderful seating to enjoy day or night…


This is the back corner of the inn taken from the garden area across their private drive…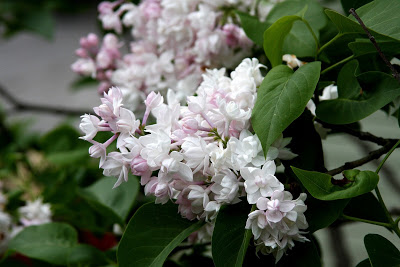 The sellers are to be commended on the painstaking work of restoring this historic beauty to its original splendor. Most of us have gone through the experience of removing rotted wood only to discover the need to replace three times what we anticipated. Budget one thousand and spend three. Been there, done that. There's a difference between a repair or replacement job and a true restoration. And it's usually in the details. A restoration could necessitate milling wood for crown molding to match that used in the early 1900's. A replacement job would often use what's available today.


The home's slate roof is in spectacular condition (that's a word I don't use too often); the mahogany wood in the library just gorgeous; the overall feel of this historic home is indescribable. If you are into historic homes, this is a must see. A fabulous hobby bed and breakfast. The prior owners used to run a catering business at the inn, which could be done again. It would make a wonderful, classic, country inn with an intimate restaurant. Or perhaps afternoon tea in the highlands of Maine.


Just 45 minutes from Bangor, an hour to ski resorts and 2 hours to Portland, with easy access to Route 95. Offered at $650,000