There isn't always a clear answer – everyone's needs are different. The seller has just reduced the price on this Victorian mansion as a residential listing to $995,000. If purchased as a bed and breakfast, completely furnished (including trade name, website, etc.) it's being offered at $1,175,000. The home is just a gorgeous example of a modernized and fully renovated Painted Lady Victorian.


Step inside and you feel the energy of both the vibrant and soothing colors. The foyer is done in a Marigold yellow which feels sunny inside even on a gray day. One parlor is a beautiful shade of red, the other a pale lavender. The dining room is a soft lichen green, hardwood floors throughout. Step into the kitchen and there's a tumbled marble tile floor (laid in two patterns) with white walls, black granite counters and warm red Kennebec cabinetry. The art studio is white with hardwood floors, allowing the artwork to act as the focal point.


The bedrooms are decorated in varying shades of vibrant off-prime colors: muted chartreuse, kiwi, soft moss green, soft grey, with fabrics in complementary shades of pumpkin, reds, oranges and whites. Baths are all either steam showers with heated stone floors or deep tiled soaking tubs, also with heated floors.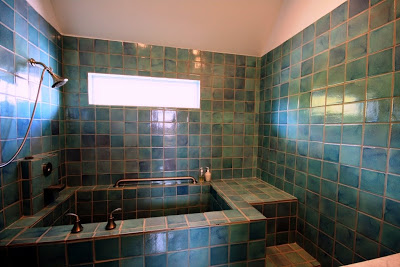 Offered as a turnkey bed and breakfast spa or beautifully renovated and maintained private residence, in the heart of downtown Bath but on a quiet side street across from the park.
Private residence $975,000
Bed and Breakfast $1,175,000
View additional photos on Flickr