The foyer of the inn (above)


This is the inn's Den (above), with its incredibly beautiful Mahogany woodwork (large photo below). Handsome, yet the room remains bright, with a large bay window on the opposite side of the room.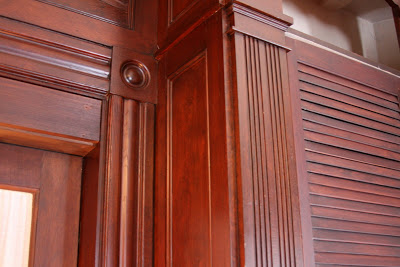 This is Guilford Bed and Breakfast. Restoration at its best. Owners have taken no shortcuts at this property; every small detail has been considered and nothing spared. This is truly a meticulously restored turn-of-the-century Victorian in its final stages of restoration. Craftsmen from around the state have contributed their talent to this project and it shows. The stairway even has three different carved spindles up its entire run. Rarely to agents walk into a property and leave without thoughts of what a buyer would immediately need to replace. This is a fine example of as turn-key as it gets.
With its four large guestrooms on the second floor and three bedrooms on the third floor for owners, it is the ideal "hobby" to help pay the mortgage. The prior owner used to offer catering services with a large kitchen. An intimate, classic inn style restaurant would be beautiful at this inn. If you've dreamed of living in an historic property without having to work on the restoration, this is a must see. Every room of this inn is inviting and evokes warmth. A gem in the middle of the Maine highlands. Offered at $650,000.


The exterior restoration is nearing its final stages and will be complete this summer, and I'll be ready to present new photos in all her glory! Property Photos Virtual Tour