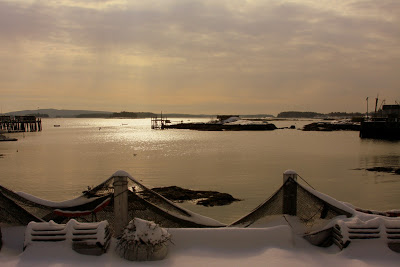 This is Stonington, on Deer Isle, Maine, as seen from our guest room at the inn.
It's mid-January. The time of year when people from the rest of the country wrongly assume we hibernate in Maine. My husband and I decided to head out of town for a night and stay at Inn on the Harbor (
yes it is my listing, but we don't live so far that we couldn't do a day trip – it's about the feeling of the inn and of Stonington
). Simply walking around town outfitted with weatherproof L.L.Bean boots and our camera is all we need. It's not about how much snow and muck there is on the ground and when it's going to melt, it's about enjoying the beauty of these picturesque villages all year. Stonington is a fine example of quintessential Maine island life, where the town's Main Street and its businesses are actually situated on the harbor for all to enjoy. This peninsula of Maine is home to numerous artists, galleries, shops, restaurants and working fishing villages. Watching the lobstermen bring back their catch; sitting in a cafe with a cup of coffee just "people watching" the locals; having a gallery owner open up their doors for you in the off season even if they are closed; and best of all, for me, sitting in the oversized chaise at the inn with my glass of wine and a book in front of the picture window facing the water. It's just something special.
When we woke up (after a near 10 hour comfortable sleep!!) this was our view (
though I missed actual sunrise
). The guest room was The Heritage. But 10 of the 13 guest rooms at this inn share the same view of the harbor.
As a PFA (person from away), I now fully understand "Maine, the way life should be" – and Inn on the Harbor is amongst the top that best convey that meaning. The inn is open all year – if you've been thinking about buying an inn and sharing the
dream
, just come stay a night or two – you'll be hooked if you do…
the inn is offered at $2,200,000, has substantial gross revenue, options for small restaurant, cafe or expanding the espresso bar into food service, retail. The "American Eagle" is the inn's newly renovated owner's quarters and offers the best view, private deck, 2 bedrooms, large bath, full kitchen, woodstove, comfort and elegance. Contact me for more details;
view photos
and
virtual tour
.