Open Hearth Inn and Cottages
Maine cottages for sale are something buyers are often interested in but there aren't many on the market. Don't miss the opportunity here!​
---
​The Open Hearth Inn was originally built by a member of one of Trenton's earliest families, circa 1820. Many of the original architectural details have survived, including the pumpkin pine floors, paneled wainscoting, and the large open hearth fireplace, complete with oven and iron crane.
As motorists took to the roads after World War II and the popularity of Acadia National Park developed, the demand for tourist lodging grew. The early 1800s Cape Cod style house was converted to a lodging business in the mid 1940s. The first cottages were constructed in these early years and thereafter each consecutive innkeeper added a new facet to the accommodations. More cottages were built in the 1950s, motel rooms in the 1970s, apartments in the 1990s, and original rooms in the house were converted to suites in 2004. 
Come and take a journey back in time. The cottages are the original authentic 1950 cottages built when the Open Hearth became an Inn, with a few modern conveniences thrown in. The Inn-style suites are in the original house, circa 1800's which allows the traveler to experience what it would have been like to stay in an Inn in Maine back then, with modern conveniences added. If those are too far back in time, the lodge is circa 1970's for that retro feel of the seventies. These historical accommodations are disappearing across the country, however every unit at Open Hearth is the real deal with the original buildings.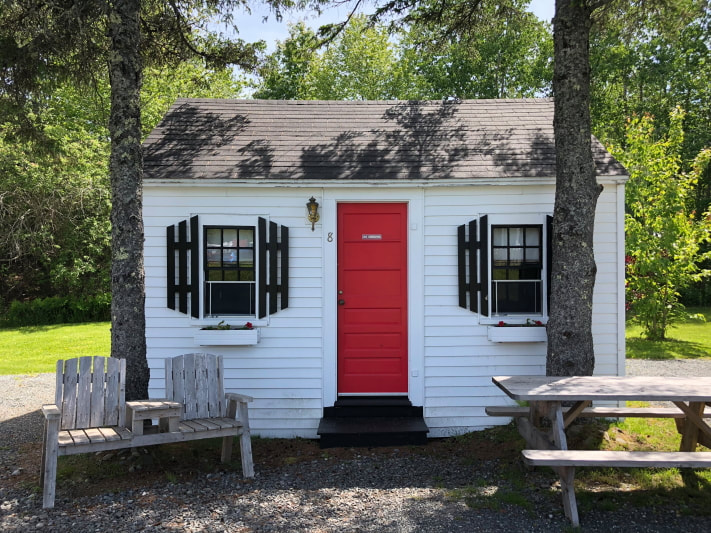 an inn style suite living room
Online Property Presentation
Inn's Website
Additional Property Photos
MLS Data
Photos on MDI (Mount Desert Island and Acadia National Park)
At a Glance
17 units: 8 cottages, 3 inn style suites, 4 lodge/motel rooms and 2 fully appointed apartments (which can be rented nightly, weekly or long term).
plenty of parking; guests can park directly next to or in front of their unit
1.41 acres
private well/all new septic
Strong seasonal business from just mid-May to mid-October.
real estate taxes $4,578 (2018)
Owner's quarters is in the main 1800s home, behind the office area, and accessible from a few locations. It is spacious and offers 1 bedroom, 1 bath, spacious kitchen open to the living room and dining room. There's a first floor staff bedroom with sink and a bathroom with shower is in the laundry room. It's a bonus to be able to house staff onsite. The layout is very conducive to both privacy and flow of business operations.
The current owners have put a great deal of money and effort into updating this wonderful property over the past four years. They have been just what Open Hearth Inn needed (or what we refer to as OHI). Check out the list of improvements above.
The owner's quarters is in the main 1800s home. Their space includes a very spacious, well appointed kitchen (below) with all new appliances, dining room and living room. There's a sliding glass door with a small, fenced in yard (great for dogs!). Upstairs is a bedroom and bath with plenty of natural light. There's a staff bedroom and a full bath for staff in the laundry room area which can come in very handy to be able to house staff.
The lobby/office is a welcoming space with coffee and fruit for guests to enjoy throughout the day. Two types of homemade muffins are freshly baked and served each morning in the lobby. 
These videos show some of the beautiful landscaping and grounds, but nothing like seeing it in person!
​Located on Route 3 at the head of Mount Desert Island, Open Hearth Inn is 12 miles to Bar Harbor, 9 miles to Acadia National Park, 15 miles to Bass Harbor Head Light, 12 miles to Southwest Harbor, 8 miles to Ellsworth, 35 miles to the Schoodic Peninsula of Acadia National Park, 36 miles to Bangor, 65 miles to Camden and 163 miles to Portland. The Bar Harbor Hancock County Airport is a half mile up the road. Open Hearth Inn makes a great home base for day trips around Maine and to the islands of the coast of MDI.

Scenic Flights of Acadia and Acadia Air Tours are just a half mile away as well. Nearby neighbors are the very popular Lunt's Lobster, Trenton Bridge Lobster Pound, and Downeast Lobster Pound.

Open Hearth Inn is right on the Island Explorer bus route (free) which also carries bicycles. So guests can park their car and enjoy all that Bar Harbor, Acadia National Park and Mount Desert Island have to offer.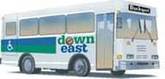 Offered at $1,100,000. Financially Viable Financial details shared with qualified buyers with signed non disclosure agreement.