The Maine Inn Team Proudly Presents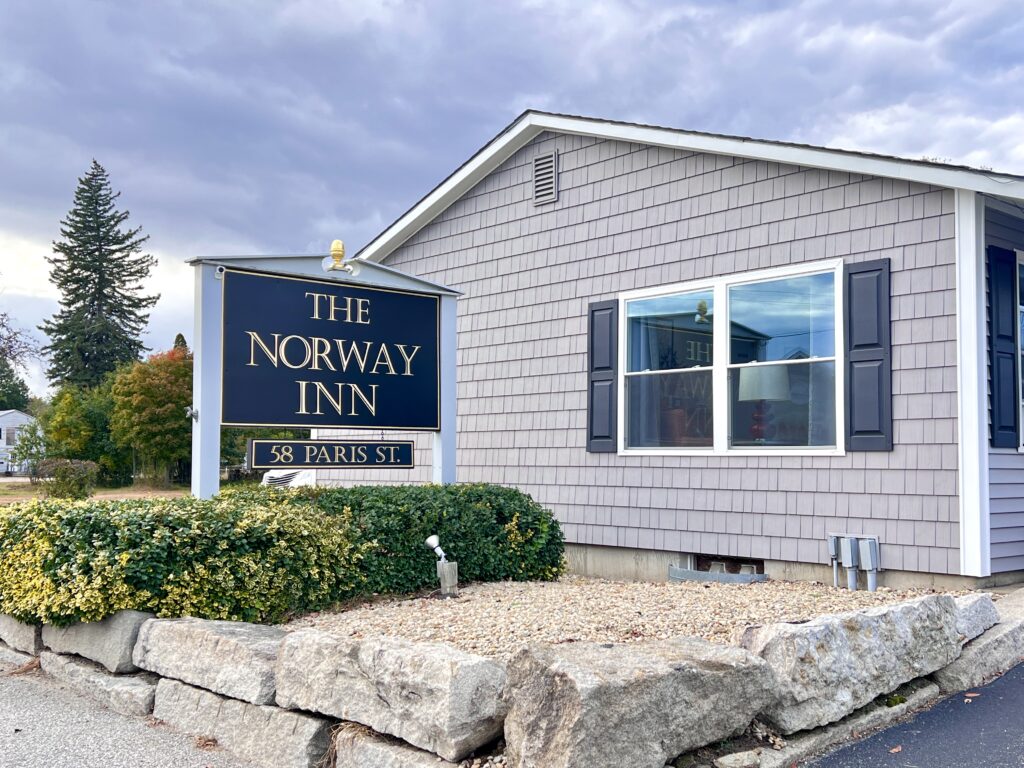 This 32 room motel was purchased in 2021, totally renovated and finished in the fall of 2023.
All rooms have either one king or one queen bed, double occupancy per room. There is a charming guest coffee/break room, a welcoming front office, very large laundry and storage, and WIFI throughout. And There is a fenced in grass area for dogs!
There is a shed with two EV chargers, picnic tables with umbrellas and an outdoor fire pit for guests to enjoy.
The parking lot is large enough to accommodate RVs, campers or snowmobiles for recreational fun! And all just a short walk to town where restaurants, shopping and more, are plentiful!
Norway is located in west central Maine, near the popular recreational area of Lake Penneseewassee, where there is no shortage of fun in this 4 season town. Hiking, biking, X-country skiing, canoeing and snowshoeing are just some of the many outdoor activities in the area. And at just about 35 minutes from Sunday River Resort, The Norway Inn is an affordable option to staying on the mountain, and in a charming small town.
Incorporated in 1797, the entire town burned down in 1894, known as the Great Norway Fire. But this resilient community quickly rebuilt itself…and today the architecture of that era still stands. Over the past several years, the town of Norway has been transforming from a sleepy, little known village, to a bustling town full of new stores, shops and plenty of terrific restaurants to sample.
There are the local craftsman co-ops, vintage stores, microbreweries wine shops and clothing stores. New Balance built a manufacturing facility in Norway where production continues today. And the Oxford Casino is less than 15 minutes from The Norway Inn.

A short ride will take you to a number of scenic byways, covered bridges, waterfalls and the occasional moose sighting!
First building built in 1989, second building added in 1992

Total square footage: 8,288 ft

Lot size: 1 acre

Tax Map 30, Lot 68

Book 5598 Page 99, Oxford County Registry of Deeds

Commercial zoning

Two buildings consisting of 32 rooms (16 in each building):

*27 Guest Rooms
*3 Room owner's/manager's quarters consisting of one bedroom, 2 baths, living room and kitchen
*1 Community/Break room for Guests and Staff
*1 Office/Lobby

All guest rooms are one bed, either king or queen

Rooms in Building 1 completed Fall of 2023
Rooms in Building 1 completed Summer of 2022

Parking for 46+ cars

Driveway: Paved

Roof: asphalt shingle

2 EV charging stations

Outdoor fire pit and picnic area, enclosed yard for guests' dogs

Complete laundry facilities on site in the very large basement

Heat: Hot Water Baseboard


Heat fuel:

Oil

Gas range and Dryers: Propane

Public water and sewer

Two full, unfinished basements with bulkhead, poured concrete floors (the entire length of each building)
Owner's Quarters, Laundry and Basement
Conveniently located adjacent to the office is the manager or owner's quarters, with a beautiful kitchen with leathered granite countertops, laminate vinyl plank flooring that continues into the living room and bedroom. There are two bathrooms, one ensuite in the bedroom and one in the kitchen, along with a large walk-in closet. This was originally two motel rooms, each with a bath when the owner's space was created. There is access from the office as well as exterior access. And the windows have an opaque film on the bottom portion to allow some light while maintaining privacy.
The basements at The Norway Inn are poured concrete and run the entire length of the building. Both are immaculate and laundry and storage are very well organized!
The Norway Inn is located:
2 minutes from Stephen's Memorial Hospital

5 minutes from Lake Pennesseewassee

10 minutes from the Oxford Plains Speedway


15 minutes to the Oxford Casino

20 minutes from Long Lake

20 minutes from Bridgton

35 minutes from Sunday River

40 minutes from Fryeburg

60 minutes from Portland

60 minutes from North Conway, NH

2 hours from Boothbay

2.75 hours from Boston

3 hours from Bar Harbor
Financials provided with signed NDA to qualified buyers only