East Wind Inn, Restaurant and Tavern
This historic seaside inn is located in Tenants Harbor, Maine, a small, working fishing and boating harbor village on a rural peninsula. It is a perfect location to discover Maine's scenic coast, its authentic working harbors as well as the culturally rich Rockland and Camden areas, just a short drive away.

Whether guests want to explore the rocky shores, kayak secluded harbors or the St. George River, or take a nature cruise from nearby Port Clyde, the St. George peninsula has it all. Guests love to relax on the wrap-around porch overlooking the scenic harbor or enjoy the cozy pub.

The East Wind Inn is also centrally located on the extensive Maine Coast, just ninety minutes drive from Portland and 2 and 1⁄2 hours' drive from Bar Harbor and Acadia National Park.
The Inn began life as a nineteenth-century sail loft, part of a working boatyard. Occasional town meetings were held there, as well as the village's first Masonic gatherings. In the 1920s, it was converted to an inn—the Wan-e-set—where tourists from Boston, arriving by steamer, spent long summer stays.

The Inn was sold to a succession of local residents in the mid-1950s, but was not fully reopened as a functioning inn until the early 1970's. In 1974, Tim Watts, a native of Tenants Harbor, purchased the now abandoned building, restored it and started the Inn again, under the name "East Wind Inn."
Several years later he purchased an adjacent nineteenth-century sea captain's mansion that had been converted into a boarding house and added it to the inn, calling it the "Meeting House Annex."

Tim Watts passed away in 2012 and Randy Deutsch, a long time summer resident of Tenants Harbor purchased the inn. Randy completely renovated the inn, upgrading the rooms and adding modern safety features, while maintaining the historic coastal charm of the inn. Randy enjoys being personally involved with running the inn.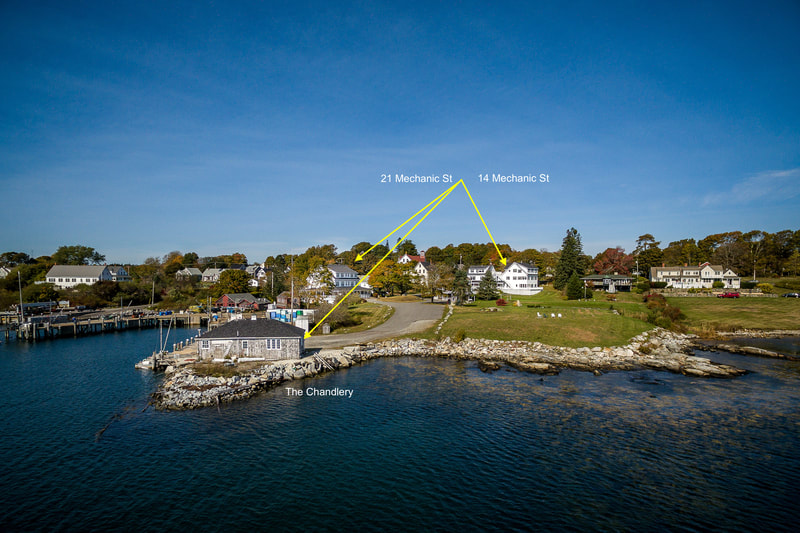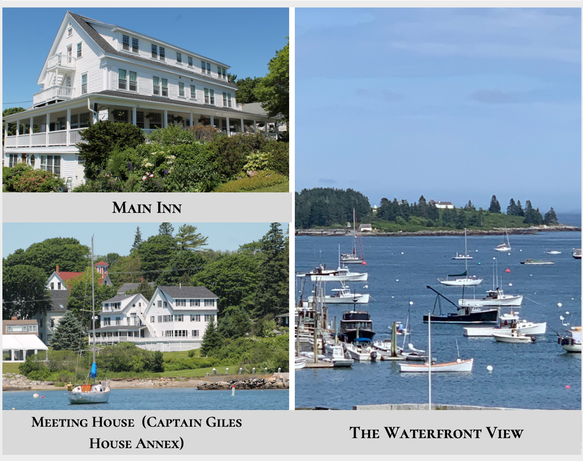 Inn's Website
Additional Property Photos
Download a Property Offering
The Main Inn has 8 guest rooms with ensuite baths, the lobby/reception, a guest living room, public restrooms, the Wan e Set Restaurant with a lovely harbor view and the cozy Tavern with its stone wall and fireplace downstairs. The wrap around porch is a favorite spot for guests from morning through evening.
The Main Inn – 21 Mechanic Street
2 acres
Built in 1860
9,626 sf
vinyl siding
8 guest rooms, 12 baths (4 public restrooms for restaurant/tavern)
44 seat dining room
40 seat tavern
Very spacious commercial kitchen with required fire suppression system over Stoves
Reception-Lobby with gas fireplace
Wrap around covered porch with a view
Real Estate Taxes 21 Mechanic Street – 2019-20 $14,930
ADA approved path to the Tavern and ADA ramp to the Main inn Fire Sprinkler
Book 4586 P 107 and 112 Knox County Registry of Deeds
Public Water
Private septic (new in 2012)
Shoreland Zoning
Approximately 500 feet of water frontage on Tenants Harbor
Map 104 Lots 2 and 4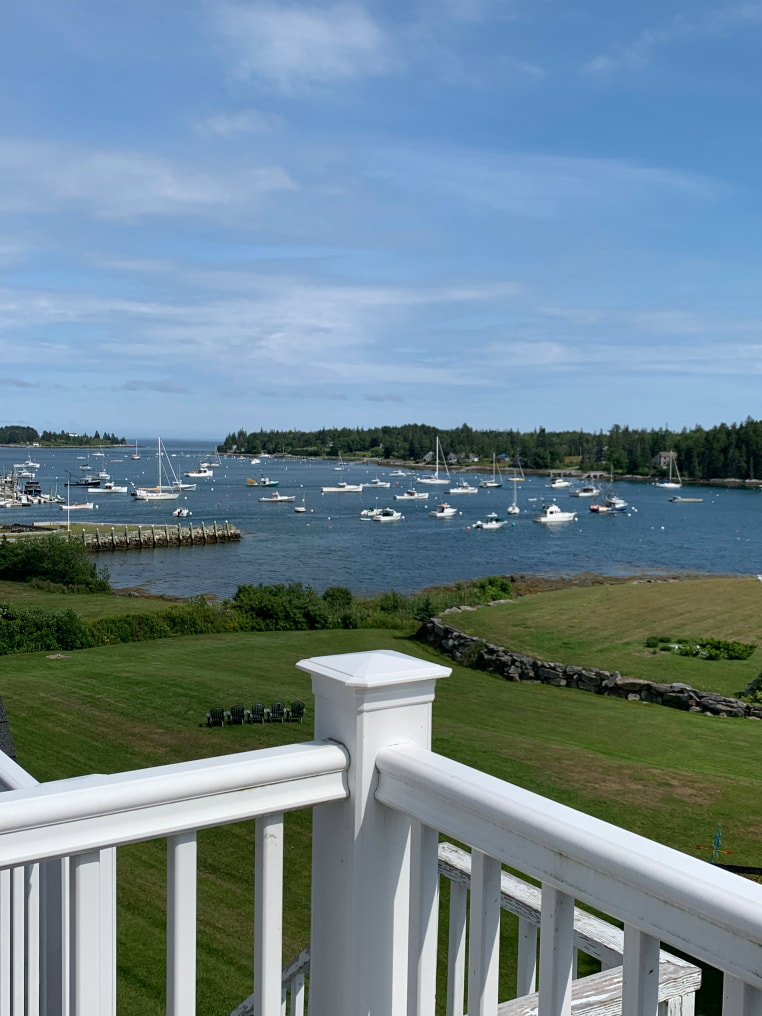 The Meeting House offers 10 guest rooms with ensuite baths, 1 guest apartment with kitchen and private deck and 1 owner's apartment with one bedroom, one bath, living room and kitchen. This building also has a common guest parlor with a corner section of windows to maximize the view. The wrap porch here is also a favorite spot. And the guest parlor is large for small events or business meetings. All rooms in both buildings are painted and decorated in warm and neutral colors in both buildings.
In addition to the Main Inn and Meeting House, the property includes a wharf and "Chandlery" building right on the shorefront with about 740sf of space. The Chandlery used to be a lobster shack but hasn't been in operation for many years. It would make a fantastic artist studio, meeting room or incredible spot for a spa with a view! There isn't a bad view on the property!
The Meeting House – 14 Mechanic Street
.49 acres
Built in 1900
6,637 sf
vinyl siding
11 guest rooms, 14 baths plus owner or manager's apartment
Spacious common living room with windows facing the harbor
Spacious wrap around porch facing the harbor
Real Estate Taxes 14 Mechanic Street – 2019-20 $6,974
ADA ramp to the Meeting House for ADA accessible room Fire Sprinkler System
Guests can dine at the East Wind Inn at "The Wan-E-Set" Restaurant and "The Quarry Tavern", both offering very different atmospheres from which to choose. The Tavern has historically remained open in the off season and has been popular with locals near and far.

New owners could enhance the restaurant hours and offerings, particularly in the off season. The inn is a destination itself with opportunity for off season lodging and dining packages.
The East Wind Inn specializes in small, intimate weddings. Backed by the culinary creations of the Executive Chef and entire restaurant team, each ceremony, reception, and dinner is planned with the utmost attention, making every event truly memorable. The 19 guest rooms, 44 seat restaurant, 40 seat tavern and expansive water-side lawn provide great flexibility for a wedding event. They can also provide assistance and recommendations for florists, photographers, music, personal hair stylists and rental equipment. Whether an intimate fireside wedding for 10 in the living room or a spectacular event for up to 120 under a tent on the lawn, The East Wind Inn is prepared to customize to any special day. The inn has hosted several artist and photography workshops and business meetings as well.
The East Wind Inn is located in the heart of Midcoast Maine at the gateway to Penobscot Bay—one of the most beautiful stretches of the Maine coast.
There are dozens of islands, historic lighthouses, and quiet little protected harbors filled with working lobster boats. The inn is also just a short drive to Rockland, home of The Farnsworth Art Museum, Strand Theater and the new Maine Lighthouse Museum, among many other cultural, recreational, and tourist attractions. Nearby is the well known Owl's Head transportation museum.
Major events in the area include North Atlantic Blues Festival, Maine Lobster Festival, Maine Antique Show, Maine boats and harbor show and the Union Fair.
Guests can experience the back drop for the many Wyeth paintings on a Wyeth by Water Tour.  The area allows the visitor to experience the traditional fishing life of Maine. Located next door to the inn is the authentic and popular Luke's Lobsters, serving fresh Maine Lobster dinners.
Port Clyde is a few minutes away where you can visit the Marshall Point Light House, hop a ferry to Monhegan Island or take a kayak tour.
Whether guests are working their way along Maine's beautiful coast and looking for a perfect overnight stay or looking for a central location to explore Maine, the East Wind Inn meets their needs.
East Wind Inn is centrally located in midcoast Maine, which is a great place to use as a home base to explore up or down the coast. The inn is just:
85 miles from Portland
195 miles from Boston
90 miles from Acadia National Park
45 miles from Boothbay Harbor
15-20 miles from Camden/Rockland area