The Bucksport Inn steps from the Penobscot River is centrally located to some of Maine's most frequently visited coastal towns. This is a great stop over for: snowmobilers, ATV riders, hunters, birdwatchers, ski and snowboarders, hikers, bikers, boaters or just family vacationers. The Penobscot Narrows Observation Tower is the first such innovation of its kind in the United States and only the third in the world.
The Waterfront
Enjoy the great outdoors without leaving town on the Bucksport Waterfront Walkway. This green space runs along the Penobscot River with a mile of brick walkways, picnic areas and fantastic views across the river. Pass many memorial benches, informative plaques, a gazebo, and marina all while enjoying the beautiful scenery.
Fort Knox and Bridge Observatory
Located on the west bank of the Penobscot River in Prospect, Maine, in an area known as the Penobscot Narrows, Fort Knox is one of the best-preserved fortifications on the New England seacoast. The observatory is, at 420 feet and 42 stories, the tallest occupied structure in Maine. Visitors will enjoy the 360° views of the Penobscot River and Bay, the Maine countryside and the distant mountains to the west. Fort Knox and the observatory are open May 1 through October 31, from 9am to sunset. The grounds are open year round for your visiting pleasure.
Additional Property Photos
Download a Property Offering
70 & 72 US Route 1, Bucksport, ME 04416

Built in 1956

Map 29, Lot 49

Book 7139 Page 187 Hancock County Registry of Deeds

Zoning: Commercial 1

Real Estate taxes $9,134 (2022-23)

5.44 acres

6794 total s.f.

22 rented units, with an additional unit as owner's quarters and one additional unit for the full time handyman

1 fully equipped 1 BR/1 BA rental cottage

Cable TV and fiberoptics
Ice machine for guests

Paved parking lot

Slab foundation

Brick and vinyl siding exterior
Composition shingle roof

Full basement, partially finished, walkout, at grade with lower level behind motel

Public water and sewer

Natural gas

In-wall AC in all rooms

Hot water baseboard heat
New gas stove in the Owner's Quarters

Many updates in 2021-2022 include:

Recently replaced all tubs and drainage

Recent upgrades to plumbing system (new toilets, piping, valves, etc.)

Recent upgrades to hot water solar system

Very large cleared back lot for seating and fire pit

Recent upgrades to electrical system (modernized breakers, replaced wiring)

Open Year Round

Two snow blowers included
Storage shed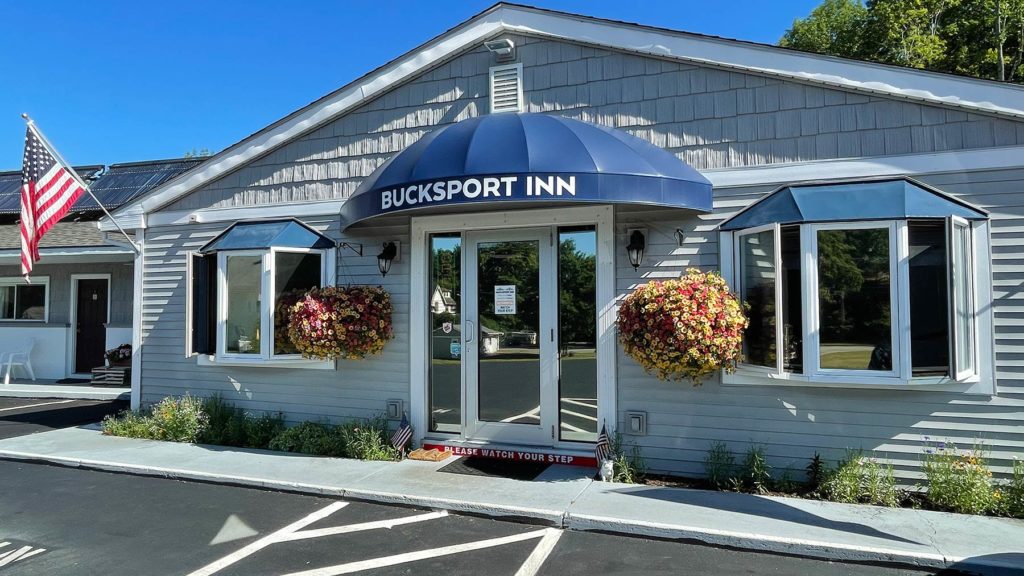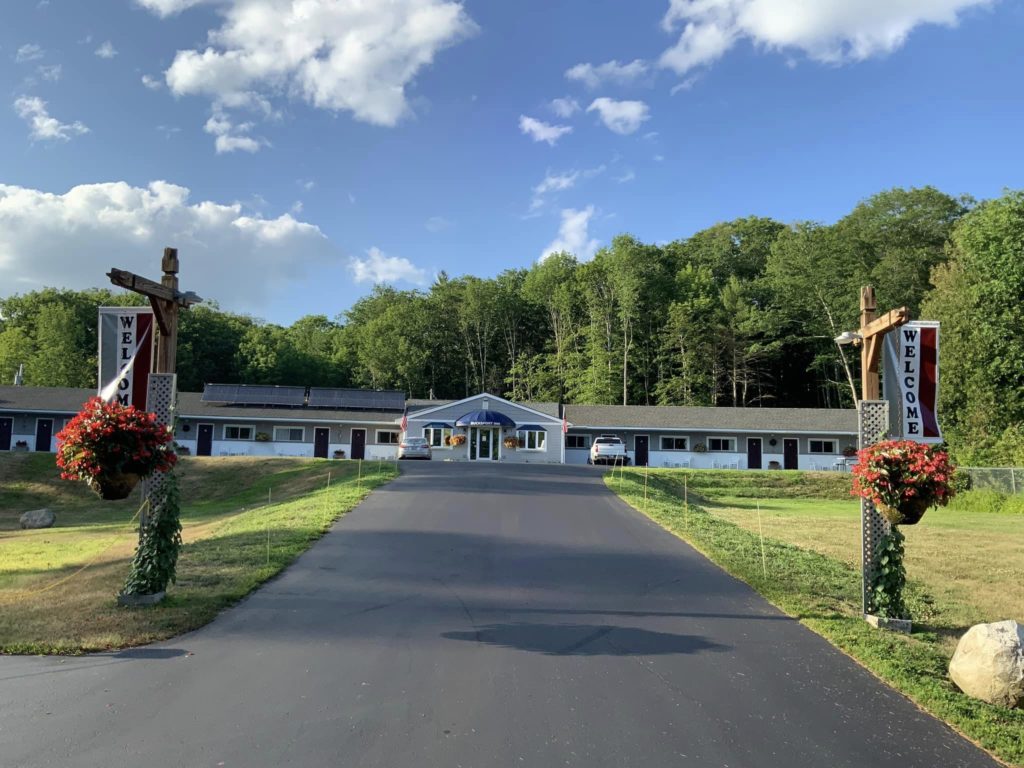 Expansion – there's about 2 acres of woods in the back that is perfect for the addition of cottages, treehouses or glamping sites! In the front of the lot there's a portion of the lot for an additional building, pool, etc. OR you could take the motel up another story.
Owners have a spacious 2 bedroom, 2 bath apartment with an open floor plan great room/kitchen/dining area, office, a sitting room off the front lobby and private deck. Floors are carpet and ceramic tile. Kitchen with granite counters. This is a very comfortable space situated behind the office, offering privacy, yet is very accessible to operating the business. There is a private exterior entrance as well as from the front lobby.
There are 22 guest rooms in the motel: 14 are in the front and 8 are in the back/below (below are dog friendly). The room configuration: 9 kings, 8 with a queen and full, and 5 with two doubles.
The cottage is a spacious unit with a heat pump, full kitchen, two queen beds, a sofa, and full bath with shower. The private cottage is located at the beginning of the property.
Let's talk about the business performance…
Do the financials support the price? YES. With a double digit cap rate, this is suited for the investor or owner/operator.
Bucksport Inn sees a strong year round occupancy from business and tourism travel.
Contact me to discuss further. Financials shared only with a qualified buyer and signed non-disclosure agreement.
There is plenty to do in Bucksport and the surrounding areas. Hiking, biking, kayaking, boating, sailing, sightseeing, antiquing, flying, horseback riding, dining and exploring all the area has to offer!
Bucksport, Maine is situated at the mouth of the Penobscot River and the northern border of Penobscot Bay. Here you can explore a mile-long walkway along the Penobscot River, go walking or running along the Miles Lane Trails, or go boating or fishing on Silver Lake or in the bay.
In July, the Bucksport Bay Festival features food, music, a parade, fireworks and Civil War reenactments. Ascending the 42-story Penobscot Narrows Bridge and Observatory in Bucksport provides a stunning 360-degree view of the Maine coast. This is the only bridge observatory in the United States and only one of four bridge observatories in the world.
Bucksport, Maine offers a unique blend of great outdoors to explore, and historic monuments and architecture in the towns and villages. This was an important strategic seaside location during the war, and you can visit the forts and remnants while enjoying your vacation in Maine.
The inn is located:
2 hours from Portland
45 minutes from Bar Harbor and Acadia National Park
1 hour 45 minutes from Boothbay Harbor
45 minutes from Camden
30 minutes from Bangor
25 minutes from Ellsworth
20 minutes from Castine
25 minutes from Belfast
The close proximity makes Bucksport a great home base for exploring Acadia National Park and Mount Desert Island. Check out the photo album and photos below!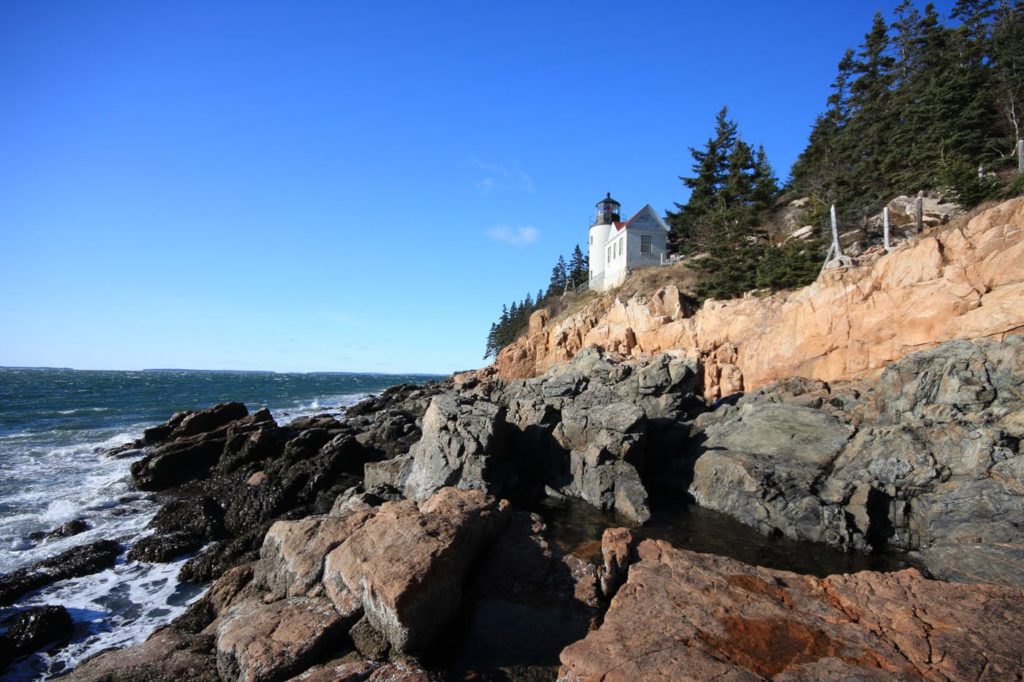 Bucksport Inn is a very profitable motel that checks off many boxes for today's traveler and buyer.

Financials shared to qualified buyer with signed NDA.